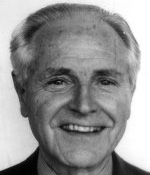 Howard K. Worner (ISS)
AIME Benjamin F. Fairless Award* in 2002
For his contributions, over more than sixty years, to the development of novel concepts and processes that have impacted the international industry. His pioneering research includes: fully fixed sinters; coal blending for coke making, continuous refinement of steel, smelting of iron oxide composites, the Worner 'iron bath' smelting furnace, direct ironmaking, use of low ranked coals for smelting, microwave assisted smelting and treatment of metallurgical waste.
Howard K. Worner was born in Northern Victoria, Australia. He was educated at the Bendigo School of Mines and the University of Melbourne and was awarded his MSc in 1936 and a DSc in 1942.
Dr. Worner was awarded a Commonwealth Traveling Fellowship in 1946 and worked in Manchester, England and Northwestern University, USA. While abroad, he was appointed professor of Metallurgy in the University of Melbourne and became dean of the Faculty of Engineering in 1953. In 1956 he was invited to become the first Director of Research of BHP and took up duties in Newcastle, Australia. 15 years ago, Dr. Worner was invited to become a.professor at the University of Wollongong.
In his long and multi-faceted career, Dr. Worner has been awarded over a dozen medals plus other high awards including fellowships in Australian Academy of Science and the Australian Academy of Technological Sciences and Engineering. He was Foundation Secretary of the latter.