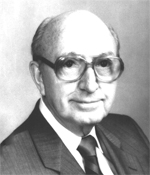 George A. Ferris
AIME Benjamin F. Fairless Award* in 1991
"In recognition of his pioneering contributions to the advancement of steel making technologies and for his management and leadership skills which have contributed substantially to the iron and steel industry."
George A. Ferris was Vice Chairman, Chief Executive Officer and a Director of WheelingPittsburgh Steel Corporation between 1985 and 1987. He was previously employed at the Ford Motor Company from 1935 until his retirement from Ford in 1981. He became Quality Control General Foreman in 1943 and two years later General Foreman of open hearth operations. Mr. Ferris held a number of Steel Division managerial positions between 1950 and 1960, when he was appointed Melting Operations Manager and later General Operations Manager of finishing operations. He was named Assistant General Manager of the division in 1967, General Manager in 1968 and a Vice President of the company in 1975. Mr. Ferris and his Ford associates pioneered the "Ford-Ferris" melting process that made it possible to increase steel production to 100 tons an hour from 25.
Mr. Ferris holds a degree in industrial management from Henry Ford Community College. He also studied at Wayne State University and the Massachusetts Institute of Technology. He has served on the governing boards of Marygrove College, the University of Detroit, and the Detroit Athletic Club. He was president of the American Iron and Steel Institute and also served as chairman of the Detroit Chapter of the Iron and Steel Society.