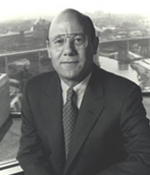 David H. Hoag (ISS)
AIME Benjamin F. Fairless Award* in 1994
"In recognition of his leadership in restructuring a major portion of the integrated steel industry in the United States, his strong commitment to facility modernization, and his dedication to the achievement of world class quality."
David H. Hoag is Chairman, President and Chief Executive Officer of The LTV Corporation and CEO of LTV Steel Company. He was previously president and chief executive officer of L TV's Jones & Laughlin Steel subsidiary before its operations were combined with those of Republic Steel Corporation to form LTV Steel Company. A 33-year veteran of the LTV organization, Hoag joined the J&L sales organization in 1960: He was appointed vice president of sales in 1978 when J&L's operations were merged with those of Youngstown Sheet and Tube Co. In his position as president of J&L's Basic SteelEastern Division he was responsible for the fully integrated steel producing operations in Pittsburgh and Aliquippa, PA. He was also responsible tor cold finished steel bar plants in Indiana, Connecticut, New Jersey, Kansas, Iowa, Mississippi and Ohio.
Mr. Hoag attended Allegheny College and earned a degree in economics. He is a member of the boards of directors of the Lubrizol Corporation, Cleveland Tomorrow, Allegheny College and the Greater Cleveland Roundtable. He is also serving as Chairman of the Minority Economic Opportunity Center in Cleveland and on the Board of Directors of the American Iron and Steel Institute in Washington, DC.