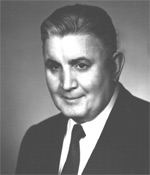 William Hurst (SPE)
AIME Anthony F. Lucas Gold Medal* in 1964
"For his outstanding contribution to the understanding of the performance of petroleum reservoirs and his untiring counsel and guidance of young engineers in the petroleum industry."
William Hurst was born in Boston, Mass., in 1905, graduated from Massachusetts Institute of Technology in 1928 with a B.S. degree in Chemical Engineering, and one year later received an M.S. from the same school in Chemical Engineering Practices. Following graduation he joined Humble Oil & Refining Co. in Houston, as one of the company's first reservoir engineers. He left Humble after 13 years to work for Core Laboratories, Inc., in Dallas, and then joined Shell Oil Company as a senior reservoir engineer in 1943. He remained with Shell for five years before leaving to open his own consulting business in 1948.
One of the true pioneers in the field of reservoir engineering, Mr. Hurst has been instrumental in contributing to the development of many of the basic concepts used in today's technology. His many published works have shed light on such subjects as the water-drive principle, basic unsteady-state flow, cycling and the use of electrolytic models in cycling studies, the effect of water influx on material balance, the use of LaPlace transformation for fluid flow problems, determination of skin effect and damage around the wellbore, five-spot water-flood problems, pressure drawdown and build-up characteristics, deliverability concepts, particularly in tight reservoirs, and interference between oil fields.
Perhaps equally as important as his technical contributions have been his efforts toward counseling and providing encouragement to young engineers in the petroleum industry. In 1962, Mr. Hurst served as chairman of the Ferguson Medal Committee, which recognizes the best technical paper published by a Junior Member of SPE. He has been an AIME member for twenty years.