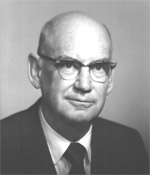 Stuart Edward Buckley (SPE)
AIME Anthony F. Lucas Gold Medal* in 1956
"For outstanding contributions as scientist, technologist, leader, and devoted labors as an author, bringing wide and general understanding of modern petroleum technology to industry and the public."
Stuart Edward Buckley was born in Eagle Pass, Texas, in 1908. He graduated with honors from the University of Texas in 1932, receiving both the B.S. and M.S. degrees in Chemical Engineering. Following this, he did graduate work in physical chemistry.
In 1933, Mr. Buckley joined Humble Oil and Refining Co. as a roustabout but was soon transferred to the Production Research Division in Houston as research engineer. He has made significant contributions in the study of hydrocarbon mixtures under high temperature and pressure, the performance of oil and gas reservoirs, well spacing, and petroleum conservation. Mr. Buckley has had published several outstanding papers in the field of petroleum technology and has had eleven U. S. patents granted to him. His editorship of the Doherty Memorial Volume, "Petroleum Conservation", published under sponsorship of AIME in 1951, is the crown¬ ing achievement which identifies him as one of the outstanding leaders in petroleum technology.
In 1942, Mr. Buckley was made Head of the Production Research Division of Humble Oil and is now Acting Assistant Chief Geologist in the Exploration Department. He has been a member of AIME since 1938 and has been particularly successful in the many offices he has held in its Petroleum Branch.