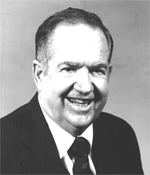 Paul B. Crawford (SPE)
AIME Anthony F. Lucas Gold Medal* in 1982
In recognition of his contribution to the knowledge of reservoir performance and enhanced recovery and teaching of their practical applications.
Dr. Paul B. Crawford, Assistant Director of the Texas Petroleum Research Committee, and member of the Graduate Faculty and Professor of Petroleum Engineering at Texas A&M University, has been named 1982 recipient of the Anthony F. Lucas Gold Medal.
Dr. Crawford, who received a B.S. degree from Texas Tech University, and M.S. and Ph.D. degrees from the University of Texas, was first employed by the Field Research Laboratories of Magnolia Petroleum Corporation, now Mobil Oil, to work on oil recovery methods using insitu combustion and steam. His work, much of which has been related to enhanced oil recovery methods, has led to a number of innovations in the insitu recovery process.
Dr. Crawford is the author of more than 200 publications in the petroleum literature, and has published papers in a dozen of the world's oil producing countries.
Recognized internationally in the fields of engineering, science and industry, Dr. Crawford was recently honored by the Texas State Legislature which passed a resolution citing his work and accomplishments.