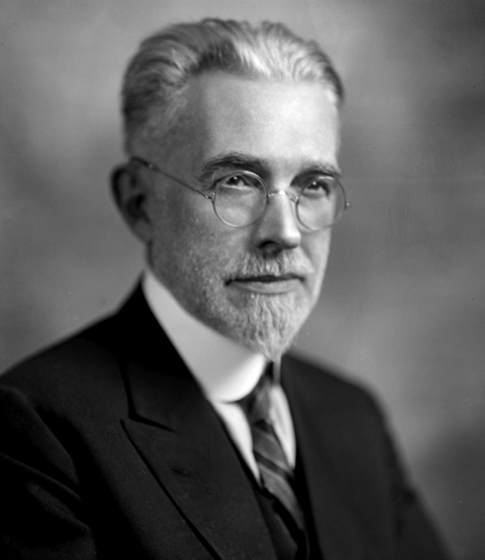 Henry L. Doherty (SPE)
AIME Anthony F. Lucas Gold Medal* in 1938
Mr. Doherty's contribution to petroleum production was his recognition of the importance of gas dissolved in oil in the pool and the relation of this element to the viscosity of the fluid and its flow to the wells.  Experimental apparatus was constructed under Mr. Doherty's direction to test the relation of viscosity to gas content in oil.  The results showed that the escape of gas from oil in the pool made the oil heavier, hampered its flow and caused a heavier proportion of the oil to remain in the sand.
It was learned that if sufficient pressure was kept on oil in the natural reservoir, the fluidity was maintained and oil could be caused to flow more freely to the wells from considerable distances.  From these discoveries stemmed the "unit" operation of pools, now required by law in Mexico, Colombia and in the United States for the development of oil in Federal lands.
Mr. Doherty was an advocate of a plan to recognize by law the unit nature of oil pools owned by various surface holders.  His discoveries pointed logically to the advantages of the "unit" operation of pools, in which the control of the gas pressure and the development of the fields are carried out as if the interests of the land owners and producers were the same.  The principle of unit operation was endorsed by the Federal Oil Conservation Board, the National Petroleum Institute and the American Institute of Mining and Metallurgical Engineers, which made this award.
In June 1931, the honorary degree of Doctor of Engineering was presented to Mr. Doherty by Lehigh University "in recognition of his distinguished contribution to the art and science of gas, electric and petroleum production, distribution and utilization."  Mr. Doherty is universally credited by engineers as being the first to recognize the great importance of gas dissolved in oil, as it lies in the pool, to the whole operation of drilling a field and recovering the oil efficiently and economically.  The results of his experiments in this work were surprising to all concerned in that they showed that gas dissolved in crude oil, at temperatures and pressures comparable to those existing in natural reservoirs, so reduced the viscosity that oils, thick as molasses, were rendered as fluid as kerosene and even, in some cases, as gasoline.
In addition to the activities which have won him distinction in the field of science and engineering, Mr. Doherty devoted much time during his last years to philanthropic activities.  He was the original sponsor of the National Birthday Ball for the President movement, which marked the first nation-wide endeavor to raised a fund for the fight against infantile paralysis.