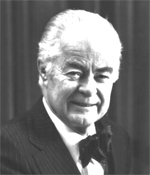 George W. Govier (SPE)
AIME Anthony F. Lucas Gold Medal* in 1990
"For his major contributions in establishing world-recognized standards for energy conservation and environmental protection, and for his technical contributions to optimize recovery of energy resources in an environmentally sensitive manner."
George W. Govier is President of Govier Consulting Services Ltd. in Calgary Previously he was Chairman of the Energy Resources Conservation Board for Alberta, Chief Deputy Minister at the Department of Energy and Natural Resources for Alberta, and Professor of Chemical Engineering and Dean of Engineering at the University of Alberta.
An active member of a number of professional and technical organizations. Dr. Govier recently completed a term as chairman of the Scientific Programme Committee for the World Petroleum Congress. He is a founding member of the Canadian Academy of Engineering and is a former President of the Canadian Institute of Mining and Metallurgy (CIM). He has written more than 65 papers on scientific, energy-management, and engineering-education topics and is coauthor of a graduate engineering textbook.
Dr. Govier has received other honors and awards, including Fellow of the Chemical Institute of Canada and the Institute's Sir John Kennedy Medal of Engineering. He also received the Centennial Medal of Canada, Officer of the Order of Canada, and Foreign Associate of the U.S. National Academy of Engineering.