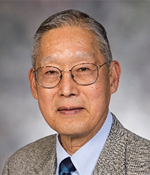 George Hirasaki (SPE)
AIME Anthony F. Lucas Gold Medal* in 2016
For pioneering work in reservoir simulation, wettability, improved oil recovery, foam and preeminence in wide range of reservoir engineering topics, and for his mentorship of other talents.
George Hirasaki had a 26-year career with Shell Development and Shell Oil Companies before joining the Chemical Engineering faculty at Rice University in 1993. At Shell, his research areas were reservoir simulation, enhanced oil recovery, and formation evaluation. At Rice, his research interests are in NMR well logging, reservoir wettability, surfactant enhanced oil recovery, foam mobility control, gas hydrate recovery, asphaltene deposition, and emulsion separation. He received his bachelor's (1963) degree in chemical engineering from Lamar University, and earned a Ph.D. (1967) in chemical engineering from Rice University.
He received the SPE Lester Uren Award in 1989. He was named an Improved Oil Recovery Pioneer at the 1998 SPE/DOE IOR Symposium. In 2016 he was awarded the Offshore Technology Conference Heritage Award. He was the 1999 recipient of the Society of Core Analysts Technical Achievement Award. He is a member of the National Academy of Engineering and The Academy of Medicine, Engineering, and Science of Texas (TAMEST).