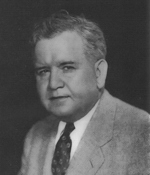 Everette DeGoyler (SPE)
AIME Anthony F. Lucas Gold Medal* in 1940
For Initiating Applied Geophysics, Directing the First Practical Seismic Exploration and Fostering Applied
Mr. DeGolyer's dream of the possibility of applying geophysical methods to prospecting for oil was first realized in 1924 with the discovery of the Nash Salt Dome by his Torsion Balance - later proved by drilling in 1926. He served an apprenticeship to a geological career with the U.S. Geological Survey - 1906-1909. In 1911 he received an A.B. degree from the University of Oklahoma, and in 1912 became chief geologist for the Mexican Eagle Oil Company.
Mr. DeGolyer maintained his connection with the Mexican Eagle Oil Company as consultant until 1923, forming in the meantime the Amerada Petroleum Corporation, of which he was vice-president, president, and chairman of the board in rapid succession. He also formed and became president of Rycade Oil Corporation, the Geophysical Research Corporation, and the Felmont Corporation. Since 1934 he has been devoting his whole attention to oil exploration on his own account and to consulting and appraisal work.
One of the first to visualize the possibilities of the application of geophysics to oil prospecting, Mr. DeGolyer studied the Torsion Balance as early as 1914 in Germany and Austria. But it was not until after the World War that he was able to get two instruments from Ferdinand Suss in Budapest. One of these he had sent to Mexico, and the other he used on the Gulf Coast of the United States. A test survey on the Spindleton Salt Dome in 1922 by one of these instruments gave reasonably accurate results when checked with the known facts learned from previous drilling. While the experiment seemed brilliantly successful it was evident to Mr. DeGolyer that many improvements in the Torsion Balance were necessary.
His discovery of the Nash Salt Dome in 1924 with his own improved DeGolyer Torsion Balance - verified by drill in 1926 - involved the first successful application of geophysical prospecting in the United States. Since that time many salt domes have been located by the use of the Torsion Balance in various parts of the world.
Becoming interested in the use of seismographs in checking on salt-dome structures by sound reflection in 1922, Mr. DeGolyer formed the Geophysical Research Corporation, which soon became the leading company in this type of work. By continued experimental work over known structures in the Seminole plateau, he was soon able to develop accurate maps of oil pools and "reflection shooting" became an established technique, which is now used throughout the world in prospecting for oil.
As a result of the application of geophysical methods to the search for petroleum, more than 3,000,000,000 barrels have been discovered since 1926. Vast areas formerly discarded, because of lack of surface geology, became susceptible to exploration by the application of these new methods in the development of which DeGolyer was the outstanding leader.