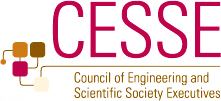 Date: October 30, 2014 - October 31, 2014
CESSE Association Leadership Through Partnership 2014
Location: Chicago, IL
Organization Name: CESSE
Organization Links:
The CESSE Association Leadership through Partnership (ALP) Symposium is a dynamic, interesting and information-filled experience designed to foster effective and efficient partnerships between top elected and top staff leaders.  
• You and your staff and volunteer leaders will be briefed on the findings from global management surveys designed especially for the ALP forum that will cover evolving and emerging economic, demographic, political and business management issues and trends.  You will see how these are affecting or might affect the scientific and engineering communities and you will be able to compare where your organization fits.  
• You will hear about evolving best practices in nonprofit management and have the opportunity to work through real-life scenarios as they affect your own organization.  
• You will be able to understand and compare your learning and management styles with those of your volunteer leaders and peers and to see how each style can be woven into an effective team work with others who may have different styles.  
• You will learn how to be competitive in a data-driven marketplace.