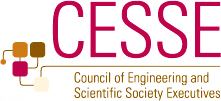 Date: February 8, 2015 - February 11, 2015
CESSE 2015 Mid-Winter CEO Meeting
Location: Mobile AL
Organization Name: CESSE
Organization Links:
MAINTAINING RELEVANCE IN A CHANGING WORLD
How do we lead our associations in the face of growth that is increasingly urban, and largely happening outside of North America?  How will the needs of the world, impact the knowledge creation, curation, credentialing and dissemination that have been at the core of our model for over a century?  
This year's Mid-Winter CEO Meeting opens up the dialogue on relevance in a unique way. The 2015 Program Chairs, Martin Frank, Ph.D. of American Physiological Society and Sandy Magnus of American Institute of Aeronautics & Astronautics tapped futurist Marsha Rhea of Signature i LLC to explore relevance.