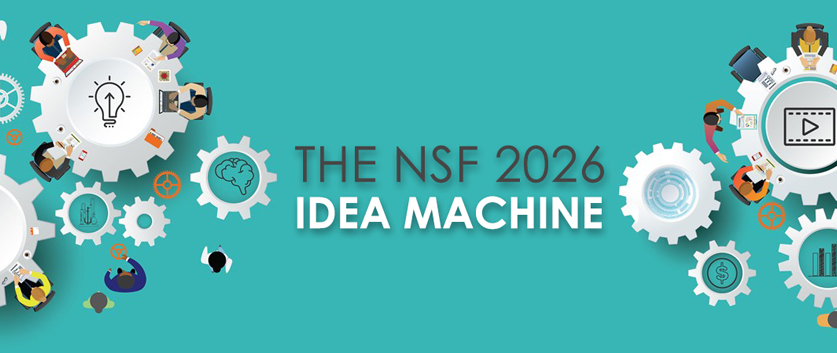 Date: September 28, 2018
NSF Idea Machine

The NSF 2026 Idea Machine!
The NSF 2026 Idea Machine is a competition to help set the U.S. agenda for fundamental research in science and engineering. Participants can earn prizes and receive public recognition by suggesting the pressing research questions that need to be answered in the coming decade, the next set of "Big Ideas" for future investment by the National Science Foundation (NSF). It's an opportunity for researchers, the public and other interested stakeholders to contribute to NSF's mission to support basic research and enable new discoveries that drive the U.S. economy, enhance national security and advance knowledge to sustain the country's global leadership in science and engineering.
What is a "Big Idea"?
A Big Idea is a compelling research challenge in fundamental STEM or STEM education that is large in scope, innovative in character, and requires a long-term commitment (i.e., 10 years or more) to address.
It has (a) worthwhile objective(s), is ambitious and challenging, and may require a paradigm shift in our thinking.
It requires high risk/high reward, transformative exploration at the frontiers of research in science, engineering, and STEM learning.
It will attract creative contributions from many researchers.
It crosses traditional scientific boundaries, fills recognized gaps, or takes advantage of new opportunities, and it does not fit within the current programs of any particular NSF directorate or division.
Progress toward addressing it would have significant societal and scientific impact that would benefit many stakeholders, both inside and outside the research community.
Some of the other research Big Ideas that NSF is currently pursuing are Harnessing the Data Revolution, Understanding the Rules of Life: Predicting Phenotype,The Future of Work at the Human-Technology Frontier, Navigating the New Arctic, Windows on the Universe: The Era of Multi-Messenger Astrophysics, and The Quantum Leap: Leading the Next Quantum Revolution.
Prize Purse
1.  Grand prize: Each final winning entry will receive a cash prize of $26,000 and its authors (individuals or teams) will be invited to a recognition event in the Washington, D.C. area.
2.  Each author (individual or team member) of the entries selected by the Blue-Ribbon Panel for virtual interviews (approximately 12) will receive a cash prize of $1,000.
3.  All authors (individual and teams) of each of the entries invited to submit video pitches (approximately 30) will receive thank-you letters from NSF leadership.
4.  The authors of the top, approximately 100 entries will receive public recognition by having their Ideas posted on the Idea Machine website.