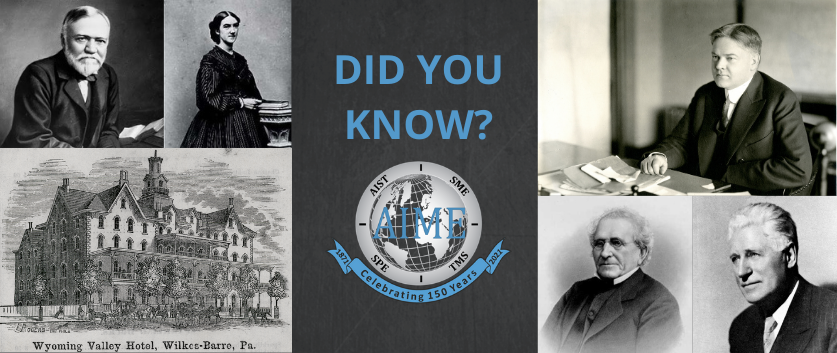 Date: December 22, 2020
Engineering Societies Building - Did You Know?
View a short Did You Know video from 2018 AIME President Roland Moreau about the Engineering Societies Building in New York.
The Engineering Societies Building was created from Andrew Carnegie's idea to create a shared space for the leading national engineering societies. Carnegie always admired engineering and recognized its value in society. He was a prominent AIME member who served on the Committee of Arrangements in 1890. In 1903 he became inspired to supply funds to establish a headquarters for the Civil, Mining, Mechanical, and Electrical engineering societies. Carnegie proposed a union engineering building where they could share their knowledge. AIME, the American Society of Mechanical Engineers, and the American Institute of Electrical Engineers accepted this proposal, and in 1904 Carnegie donated a million dollars to erect such a building in New York. With the building underway, the three societies entered into a "Founders Agreement" and they became known as the United Engineering Society. In 1917, the American Society of Civil Engineers joined. In 1958, the American Institute of Chemical Engineers (AIChE) was added to round out the five engineering Founder Societies in the US.
To learn more about
The United Engineering Foundation visit: www.uefoundation.org
AIME UEF Representatives: http://aimehq.org/about-us/uef-representatives
Follow AIME on Social Media to see new weekly Did You Know historical facts!
https://www.facebook.com/AIMEHQ
https://twitter.com/AIMEHQ
https://www.linkedin.com/company/american-institute-of-mining-metallurgi...