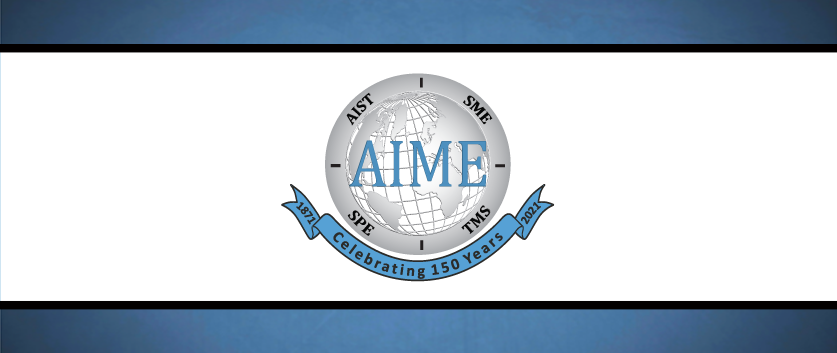 Date: March 18, 2021
AIME Provides Support to TMS and Other Member Societies
The American Institute of Mining, Metallurgical, and Petroleum Engineers (AIME) has approved a $1 million grant to its member societies, which include TMS, to mitigate the negative impact on society operations associated with the COVID-19 pandemic. AIME's four member societies include TMS and three other associations: the Association for Iron & Steel Technology (AIST); the Society for Mining, Metallurgy, and Exploration (SME); and the Society of Petroleum Engineers (SPE). The grant will be divided equally among the four groups.
"The COVID-19 pandemic has presented unprecedented challenges to the association community, including the disruption of convening people for knowledge sharing and networking," said George Luxbacher, AIME president. "All have had to pivot to new ways of delivering member value, some requiring significant new resources. AIME hopes that this increased support will ease the transition."
For TMS, delivering member value in the past year has included establishing the COVID-19 Resource Portal, providing meaningful virtual conference experiences and engaging on-line professional development courses, and building a robust library of webinars that members can access at no charge.
"This grant will support TMS as we weather disruptions to many of our traditional activities and pivot toward new ways of better serving our members around the world during the pandemic," said James J. Robinson, TMS executive director. "We greatly appreciate the support of AIME in helping us meet these goals. I think it is fitting that, as we celebrate the 150th anniversary year of AIME, we are working together to develop new capabilities that will serve our members far into the future." 
The American Institute of Mining, Metallurgical, and Petroleum Engineers was founded in 1871 by 22 mining engineers in Wilkes-Barre, Pennsylvania, USA, and celebrates its 150th anniversary in 2021. TMS will be celebrating the AIME anniversary year at the TMS 2021 Virtual Annual Meeting & Exhibition, March 15-18, 2021, and at the TMS 2022 Annual Meeting & Exhibition, February 27-March 3, 2021, in Anaheim, California, USA.