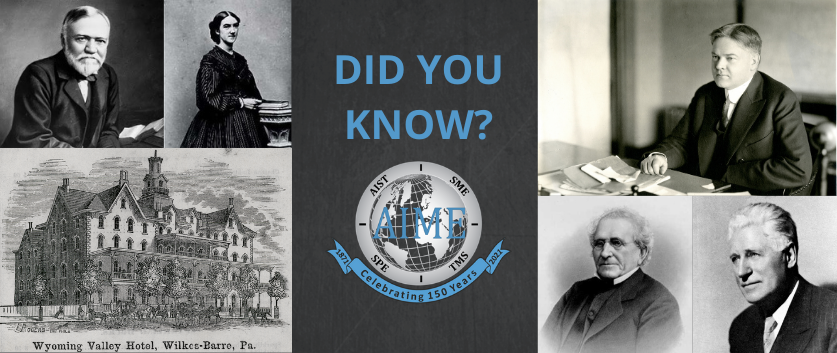 Date: January 07, 2021
1893 World's Columbian Exposition - Did You Know?
The World's Columbian Exposition was a world fair held in Chicago in 1893 to celebrate the 400th anniversary of Christopher Columbus' arrival to the New World. The fair included life-size reproductions of Christopher Columbus' three ships, the Nina (real name Santa Clara), the Pinta, and the Santa Maria. It also featured expositions of innovations and the first area for amusements, including carnival rides and the original Ferris Wheel. There were fourteen main "great buildings" centered around a giant reflective pool called the Grand Basin. Solon Spencer Beman designed the Mines and Mining Building.
Distinguished civic, professional, and commercial leaders from around the country worked to finance, coordinate, and manage the Fair. AIME raised a special fund to support the mining and metallurgical "departments" of the World Engineering Congress held conjointly with the expositions. The World Fair was a very influential social and cultural event that had a significant effect on architecture, the arts, and American industrial advancements. According to the AIME Proceedings from the Virginia Beach Meeting, the official count of visiting engineers from around the world totaled 3,132; of those, 2,408 were from the U. S. and Canada. An excerpt from the proceedings: "The circular of the Executive Committee of Engineering Societies, which will be found in the appendix to this report, gives a full account of the activity of that committee in connection with the International Engineering Headquarters and the Congress. In addition to the Institute's participation in these joint enterprises, a special Columbian committee was appointed by the council, consisting of Mr. John Birkinbine, Chairman; Dr. David T day, Secretary, and Messrs. Jos. D. Weeks, W. B. Potter, James A. Lewis, R. W. Hunt, Theodore D. Rand, J. C. Smock, Charles Kirchhoff, and R. W. Raymond. AIME members can read the full account of this historical event recorded in the Transactions found in the AIME Digital Library.