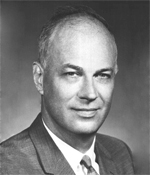 Walter R. Hibbard Jr.
AIME Past Trustee 1966 - 1968, 1957 - 1960
An internationally known metallurgical engineer, Dr. Walter R. Hibbard Jr. brings to his position as Institute President notable success in earlier careers in education and industrial research and development. As director of the Bureau of Mines of the United States Department of the Interior since December 1, 1965, he heads the principal Federal agency charged with the conservation and development of the Nation's mineral resources. Dr. Hibbard's achievements in such fields as the plastic deformation of metals and the metallurgy of copper and its alloys have won him wide recognition from many professional societies. He joined AIME in 1940 and in 1950 received the Institute's Raymond Award. He has served as a director and a vice president of AIME. From 1957 to 1961, he served as director, and in 1958, he was president of The Metallurgical Society. For many years a registered professional engineer, Dr. Hibbard is a past chairman of The Society's committees on the metallurgical profession and on engineering management. In January 1963, he was one of ten eminent metallurgists elected to the newly created grade of Fellow of the Society. Dr. Hibbard is a member of the National Academy of Engineering, and belongs to the British Institute of Metals and the New York Academy of Sciences, and is a fellow of both the American Academy of Arts and Sciences and the American Association for the Advancement of Science. He also is a member of the Materials Advisory Board of the National Academy of Science, and was recently its chairman. Holder of an honorary doctor of laws degree from Michigan Technological University, Dr. Hibbard has been elected to many honorary and professional fraternities including Phi Beta Kappa, Sigma Xi, Alpha Chi Sigma, and Gamma Alpha. Author of more than 70 scientific papers, he has been widely recognized as a major contributor to the science of metallurgy and to the application of its findings in advancing industrial progress. In 1957, he was a member of the exchange delegation of United States metallurgists visiting the Soviet Union. Born in Bridgeport, Connecticut, Dr. Hibbard was graduated from Wesleyan University in 1939, and received a doctor of engineering degree from Yale University in 1942. Following his military service in WorId War II as a naval officer attached to the Bureau of Ships, he joined the faculty of Yale as an assistant professor and later became associate professor. A growing reputation in the teaching and research fields attracted the attention of industry, and in 1951, Dr. Hibbard was recruited by the General Electric Company for its research and development center in Schenectady, New York. There he progressed to the position of manager of metallurgy and ceramics research, where he directed a broad range of fundamental and applied research projects. He held this position when selected to become director of the Bureau of Mines.