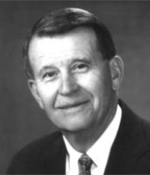 T. Scott Hickman
AIME Past Trustee 1999 - 2000
T. Scott Hickman, president of T. Scott Hickman and Associates, is recognized for his many years of active service to the SPE and the industry. Mr. Hickman began his career as a petroleum engineer at Texaco in 1957. In 1969, he joined LLC&C Consulting as Partner and Senior Evaluation Engineer before starting his own consulting company in 1973.
His many career distinctions include Honorary Life Member of SPE, 1987 Engineer of the Year Award from the Texas Society of Professional Engineers' Permian Basin Chapter, and the 1990 J.C. Sionneger Award from the Southwestern Petroleum Short Course. Mr. Hickman holds a BS degree from Texas Tech University and an MS degree from Louisiana Tech University, both in petroleum engineering. Since joining the Society in 1957, Mr. Hickman served as 1997 SPE President, a member of the Board of Directors during 1990-93, and Director of the Permian Basin Section during 1984-86.
He received the Distinguished Service Award in 1995 and served as a distinguished lecturer during 1994-95.
Mr. Hickman is an active member of numerous SPE committees. He is currently an SPE Foundation trustee and a member of the Public Service Award Committee. Mr. Hickman was an AIME trustee from 1999-2000.