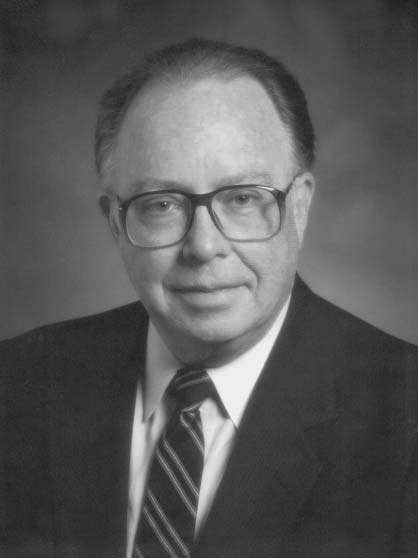 Kenneth J. Richards
AIME Past Trustee 1980 - 1982
KENNETH J. RICHARDS
1932–2008
Elected in 2000 to the National Academy of Engineering
"For contributions in the development of advanced copper smelting technology."
BY J. BRENT HISKEY
Final Tribute Vol 13.indd 217 3/23/10 3:42:30 PM
2 18 MEMORIAL TRIBUTES
KENNETH JULIAN RICHARDS, retired vice president of Kerr-McGee Corporation and former president of the company's Technology and Engineering Division, died on May 11, 2008, in Oklahoma City, at the age of 75. He was elected to NAE in 2000 "for contributions in the development of advanced copper smelting technology."
Following retirement from Kerr-McGee Corporation in 1994, Ken started a successful consulting business. In addition, he was assistant secretary of commerce for technology for the state of Oklahoma, for which he had extensive experience in research and technology management, process and production development, and technology transfer. Ken was known internationally for his contributions to extractive metallurgy and his pioneering efforts in advanced copper-smelting processing.
Born in Long Beach, California, on November 29, 1932, Ken graduated from Belmont High School in Los Angeles in 1950 and then attended UCLA. Subsequently, he enrolled at the University of Utah, where he graduated with a degree in chemical engineering in 1955. Between 1955 and 1959, Ken was a process engineer, first at Union Oil Company and then at Fractionation Research Incorporated. He then became a development engineer with the U. S. Intelligence Agency (USAF) working on rare-earth production and separation. In 1959, he returned to the University of Utah to pursue a doctorate in metallurgical engineering under the supervision of Professor Milton E. Wadsworth. After receiving his Ph.D. in 1962, Ken served as a captain in the U.S. Air Force at the Aerospace Research Laboratory in the Metals and Ceramic Division.
In 1967, Ken joined Kennecott Copper Corporation in Salt Lake City, Utah, as a senior scientist. In 1974, he was promoted to director of research and development, and in 1979, he became vice president of process technology. Based on his many noteworthy achievements at Kennecott, he earned a reputation as a leader in the field of non-ferrous process metallurgy. He had been instrumental in the first commercial installation of a
distributed digital-control system for copper smelting and was the principal inventor of the solid matte-oxygen converting (SMOC) process, a hallmark engineering achievement that greatly advanced copper smelting and provided the impetus for the next and future generations of the process. In 1984, he moved to Oklahoma City to become president of the Technology and Engineering Division of Kerr-McGee Corporation, where
he remained until his retirement in 1994.
Ken's colleagues knew him as a person who could integrate technology and business with uncommon skill, and he received many awards for his exceptional technology management skills. He was also a mentor to a great many young engineers. He was president of the Minerals, Metals and Materials Society of the American Institute of Mining, Metallurgical and Petroleum Engineers and was named to the Hall of Fame of the Oklahoma State University College of Engineering, Architecture and Technology in 1993; he was also an early contributor to the Oklahoma Center for the Advancement of Science and Technology.
Ken Richards is survived by his wife Shirlene; their three sons, Brian Richards (Fort Worth, Texas), Kevin Richards and his wife Elizabeth (Houston, Texas), and Steven Richards and his wife Tiffany (Oklahoma City, Oklahoma). He also leaves behind seven grandchildren.