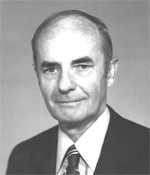 Frederic L. Kadey Jr.
AIME Past Trustee 1983 - 1985
Frederic L. Kadey, Jr. is a consultant in Industrial Minerals with his office in Denver. He earned a B.Sc. in Geology from Rutgers University and an M.A. in Geology from Harvard University, where he was also Teaching Fellow in Mineralogy. Mr. Kadey began his career with U.S. Steel Corp. in 1947 as a Petrographer in the Research Laboratory. He joined Manville Corporation R & D Center in 1951 as Petrographer, and remained with Manville as Exploration Manager for the Corporation's domestic and foreign industrial minerals operations until his retirement in 1983. A member of SME since 1946, Mr. Kadey served as 1969 Program Chairman and chaired the Hardinge Award Committee in 1975, the Industrial Minerals Division in 1977, the SME Program Committee in 1980, and the Book Publishing and Mining Engineering Committees in 1983. He was an SME Director in 1977-1979 and 1983-1985, a member of the AIME Board in 1983·1985, and 1985 Chairman of the SME Nominating Committee. Mr. Kadey Is a 1981 Distinguished Member of SME and was 1984 President of the Society. A fellow of Al-AS, Mr. Kadey is also a member of the Mineralogical Society of America, a charter member of AIPG, and past President of the New York State Section. He is the author of several articles including the "Perlita" and " Diatomite" Chapters in the 5th Edition of Industrial Minerals and Rocks.