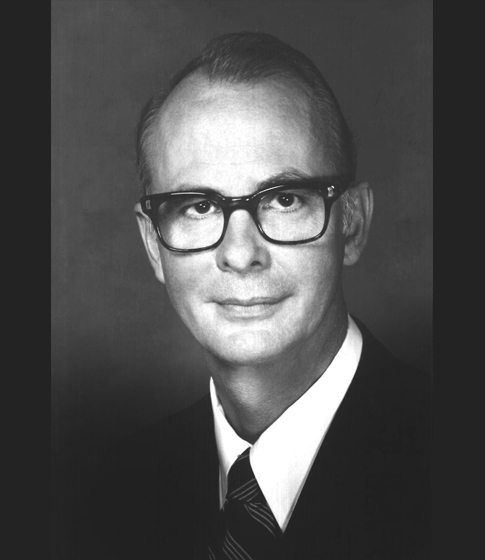 Thomas Corwin Frick
AIME Past President 1965
Thomas C. Frick brings to the presidency of the American Institute of Mining, Metallurgical and Petroleum Engineers a long and distinguished career in the petroleum industry. He is now manager of the Natural Gas Division of The Atlantic Refining Company's North American Producing Department in Dallas, Texas.
Mr. Frick began his career in the oil industry when he was 13 years old, riding an old gray horse about half-a-mile north of Collinsville (Oklahoma) to change charts on a gas meter, at pay of $15 a month. After graduation from high school, he worked one year for the Tulsa Fuel and Manufacturing Company (New Jersey Zinc Company) in the laboratory and computing gas volumes from gas charts. Then he worked for three additional years in the oil fields before entering college and starting his engineering studies. In 1933, Mr. Frick was a member of the first graduating class in Petroleum Engineering from the University of Tulsa.
Following graduation he joined Phillips Petroleum Company at Bartlesville, Oklahoma, in the Refining Department, then returned to his alma mater in 1936 as associate professor of petroleum production. At Tulsa he acted as head of the department and taught courses in petroleum production, natural gas engineering, engineering economics, and surveying. He also supervised the installation of equipment in the petroleum production and natural gas laboratories.
In 1941 Mr. Frick joined The Atlantic Refining Company and served as the company's district superintendent, first in East Texas then West Texas, as operations supervisor for the West Texas-New Mexico Region, and as regional coordinating manager in Corpus Christi. In 1954 he was named manager of Atlantic's Production Division in Dallas, and in 195'8 he moved to Lafayette, Louisiana, as manager of the former South Louisiana Region. In mid-1961 he assumed his present position in Dallas.
Mr. Frick has a long record of outstanding service to AIME, beginning in 1936 when he joined the Institute. He was instrumental in founding the AIME Student Chapter at the University of Tulsa, when he was on the faculty there. Also, he was chairman of the Petroleum Branch of AIME in 1956, after serving as chairman of two AIME Sections. Following service on the AIME Board of Directors, he was Vice-President of the Institute in 1959.
In other industry and professional activity, Mr. Frick holds membership in the American Gas Association, Oklahoma Society of Professional Engineers, National Society of Professional Engineers, Mid-Continent Oil & Gas Association, American Association for the Advancement of Science and American Petroleum Institute.
From the rather modest start beginning with "riding an old gray horse to change gas charts at the age of 13" through over thirty years of close association with the petroleum industry, he has amassed a tremendous knowledge and understanding of production problems and techniques. In 1962 this resulted in a significant contribution to the industry - the 180-page, two-volume Petroleum Production Handbook issued by McGraw-Hill Book Company, New York. Mr. Frick was editor-in-chief and a prime moving force in the publication of these massive volumes covering every aspect of petroleum production.
During 1965 Mr. Frick plans to devote his energies primarily to stimulating AIME membership development. He considers membership in AIME to be one of the most rewarding experiences of his career and feels that every engineer in the mineral industry should participate in his professional society. AIME can expect dedicated and inspirational leadership from Thomas C. Frick in 1965.