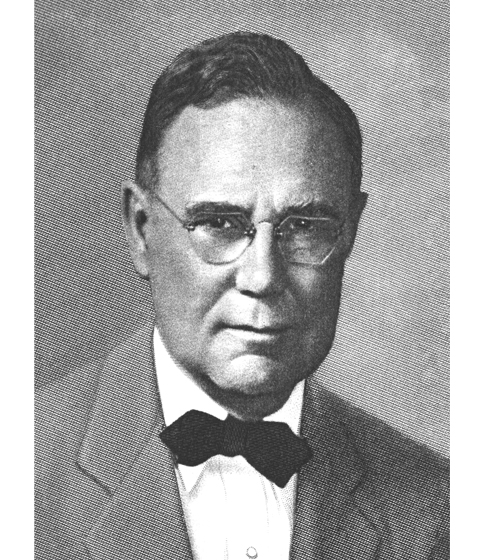 Rolland Craten Allen
AIME Past President 1937
Dr. Rolland C. Allen, a nationally known geologist and mining engineer, was prominent in the iron ore, coal, and shipping industries. Known affectionately as "Bill," he taught a country school at the age of 16; then put himself through the University of Wisconsin, graduating in geology in 1905 with high honors. In 1908 he was appointed Instructor of Geology at the University of Michigan. The following year he was named State Geologist of Michigan and soon also became the first State Mine Appraiser. He won the high regard of the state government, the public, and the iron ore and copper mining companies, and made his office a vital force in the development of the natural resources of his state. He created and was First Director of the Michigan Soil and Economic Survey and fathered far-sighted legislation that protects the water supplies of Michigan today from contamination from deep drilling for gas and oil.
During World War I, he was a member of the War Profits and Excess Profits Tax Board and in that capacity, organized the Division of Natural Resources and was its first Chief.
In 1919, Allen came to Cleveland as Vice President of the Lake Superior Iron Ore Association and served as President from 1930 to 1947. In 1921 he joined the firm of Oglebay Norton & Co., which engages in iron ore and coal mining, and lake shipping, and was named Executive Vice President in 1924. In 1930-31, Allen went to Russia as a consultant to advise the Russian government on the development of its iron ores. He pushed for the development of iron ore production from taconite in the Lake Superior ranges and was the organizer and head of Reserve Mining Company, which acquired large areas of taconite lands.
With war approaching Allen was called to Washington in 1940, where he served as Deputy Chief of the Iron and Steel Board of the War Production Board (1940-42) and Vice Chairman of the Metals and Minerals Division (1942-45). He was responsible from the beginning for directing the war-time supply of strategic iron ore for the steel industry.
"Bill" Allen served as President of the A.I.M.E. in 1937 and was held in the highest confidence and admiration by his peers throughout the industry. He was an inspiration to all who knew him.