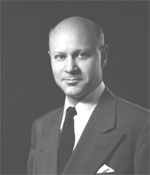 Michael Lawrence Haider
AIME Past President 1952
Michael L. Haider retired October 1, 1969 as chairman of the board and chief executive officer of Standard Oil Company (New Jersey) after more than 40 years.
In 1969, Mr. Haider received the John Fritz Medal, and in 1963, he was elected an AIME Honorary Member.
Mr. Haider was born in Mandan, North Dakota, and received his degree in chemical engineering from Stanford University. In 1929, he joined the Carter Oil Company in Tulsa (at that time a Jersey Standard affiliate, now part of Humble Oil and Refining Company). By 1936, he was in charge of all company engineering operations.
Mr. Haider came to New York in 1938 as manager of production engineering and research for Standard Oil Development Company (now Esso Research and Engineering Company). Seven years later, he was named executive assistant in the parent company's (Jersey Standard) producing department. In 1946 Mr. Haider moved to Imperial Oil Limited, Jersey's Canadian affiliate, as head of the production and exploration department. He was elected a director in 1948 and a vice-president in 1950.
Mr. Haider returned to Jersey Standard in 1952 as deputy coordinator of the company's worldwide producing activities. Two years later he was elected president of International Petroleum Company, Limited, a post he held until his election to the board of directors of Jersey Standard in 1959.
Mr. Haider has been Jersey Standard's chairman and chief executive officer since March 1, 1965. He served as an executive vice-president and member of the executive committee from 1961 to 1963, and as president from 1963 to 1965.
Mr. Haider holds honorary doctorates from the University of Miami, Rensselaer Polytechnic Institute, C. W. Post College of Long Island University and PMC Colleges.
Mr. Haider is a member of the National Petroleum Council, a founding member of the National Academy of Engineering, and has served a two-year term as chairman of the American Petroleum Institute.