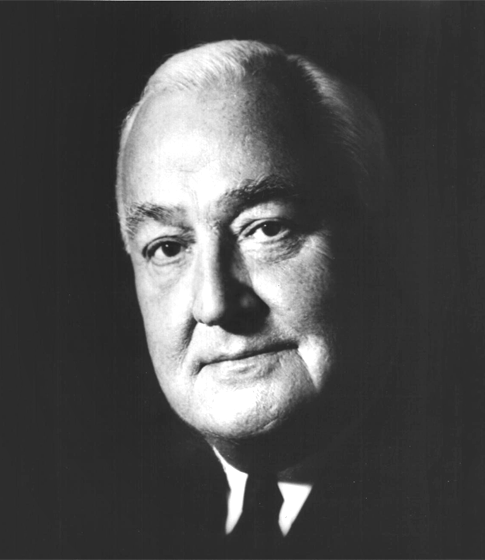 Louis Shattuck Cates
AIME Past President 1946
Determination, an ability to organize, and an innate capacity for enlisting the friendly cooperation of his associates are the outstanding characteristics of Louis Cates, traits which have won for him a high place in the mining industry and in the American Institute of Mining and Metallurgical Engineers. Born in Boston in 1881, and educated in the public schools of that city, he attended Massachusetts Institute of Technology, graduating with a B.Se. degree in 1902.
After a short employment with National Steel and Wire Co., young Cates got a job as timekeeper for Boston Consolidated Mining Co., at Bingham Canyon, Utah. His advance with this organization was rapid, and by 1910, when it was taken over by Utah Copper Co., Mr. Cates was general manager of mines and mills. A little later, he was put in charge of Ray Consolidated Copper Co.
After nine years with Ray Consolidated, during which time it earned more than $25,000,000, Mr. Cates was called to Salt Lake City to be general manager of Utah Copper, and in less than a year he was made vice president. In 1930 he severed his connection with Utah Copper to become president of Phelps Dodge Corp., with headquarters in New York City.
Under Mr. Cates' leadership Phelps Dodge has become one of the big three copper producers of the world. It is not only a major factor in the production of copper metal, but it is also an integrated unit of the copper industry with its own refining and fabricating facilities. It owns refining plants in Texas and New York and manufacturing facilities in New York, New Jersey, Indiana, and California. In 1931 Phelps Dodge acquired the mines and other properties of Calumet and Arizona, and in 1935 the properties of United Verde Copper Co. Probably the crowning achievement of Mr. Cates' career in the copper field was started in 1937, when he directed the opening and equipping of the Morenci open-pit property. This was a $40,000,000 operation and was carried through to completion despite shortages in materials and machinery.
Mr. Cates has been accorded the honorary degree of D.Eng. by the Michigan College of Mines and D.Se. by the University of Arizona. In 1939, he received the Saunders Medal from the AIME.