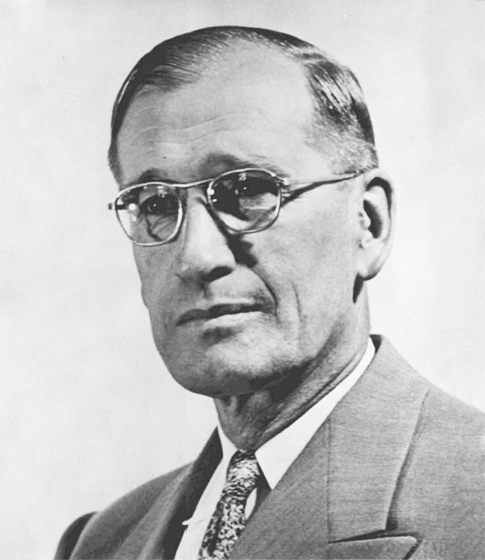 Grover Justine Holt
AIME Past President 1957
Grover J. Holt, who has been a Member of the Institute since 1941, was born in Northwood, N. D., in 1894. After receiving a B.S. in mining engineering in 1916 from the University of North Dakota, he became a research fellow in metallurgy at the University of Utah and received an M.E. degree in 1917. During World War I he served with the AEF as a Lieutenant, U. S. Army Engineers. Following service, he spent two years at the Bunker Hill & Sullivan smelter, Kellogg, Idaho.
In 1920 Mr. Holt joined U. S. Steel Corp. as a mining engineer, and has made the Lake Superior Iron Ranges his home area ever since.
He became Assistant to the Vice President, Butler Bros., in 1930 and during the next decade was active in pointing out the diminishment of reserves of direct shipping iron ore, and in developing methods to process lower grade reserves. In 1941 he built the first sink-float installation on the Range at Butler's Patrick plant, and also presented the first paper on this application of the process.
Mr. Holt joined Cleveland-Cliffs Iron Co. as Chief Engineer in 1942, becoming Manager, Minnesota Mines, in 1950, and General Manager, Cleveland-Cliffs Iron Co. in 1953. During this period CCI established a beneficiation laboratory (1943), and has built a succession of plants to treat Minnesota and Michigan low grade ores.
Mr. Holt lives in Ishpeming, Mich., where he "occasionally" has an opportunity to take advantage of the excellent local hunting and fishing facilities. At a time of far-reaching, projected changes, AIME is fortunate to have leadership from a man who has not only demonstrated foresight, but also the ability to plan and build to meet the need foreseen.