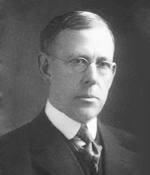 Frederick Worthen Bradley
AIME Past President 1929
Frederick W. Bradley earned his place in history as one of the finest enterprising mining engineers the industry has known. From that day in 1887, when he established a record for low-cost gold mining at the Spanish Mine in Nevada County, he never looked back. There, he mined gold at an astounding 65 cents per ton!  The record he set then was destined to be broken only by himself, when he achieved an even greater feat at the Alaska-Juneau Mine. That achievement constitutes the biggest thing of its kind ever accomplished by a mining engineer. From a sad farce, Bradley brought the great low-grade lode of the Alaska-Juneau to splendid fruition.
He also helped develop California gold dredging, the Coalingua Oil Field and several low-grade mercury deposits in Nevada, California and Oregon. He was involved with hydro-electric research and the Tainton Process for purifying zinc. Mr. Bradley was a great philanthropist as well and a generous contributor to worthy causes.
In 1932, he was honored with the William Lawrence Saunders Gold Medal by the American Institute of Mining, Metallurgical and Petroleum Engineers.