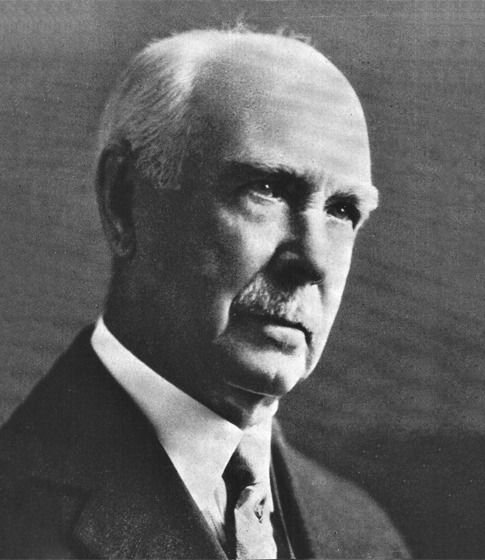 David William Brunton
AIME Past President 1909 - 1910
David W. Brunton brought a wide array of talent to a diverse range of challenges in the mining industry. He is best known for inventing the Brunton "Pocket Transit," a staple for geological and engineering work even today. He also invented practical process sampling devices and with a partner erected sampling mills. His work as a practicing mining engineer ran the gamut, including supervising the driving of a 2.5-mile tunnel, sinking several shafts, designing and implementing six lead-silver mill operations, and giving testimony in complex apex law suits in Colorado and Montana.
Canadian-born David Brunton recognized the need for something smaller and simpler than the heavy surveying equipment that engineers of his time were hauling into the field each day. He transformed this idea into his "Pocket Transit," a hand-held surveying compass that could also measure horizontal angles. Brunton was awarded a patent for his "Pocket Transit" in 1894, and William Ainsworth, a Denver watch maker, was contracted to manufacture it. By 1929, 30,000 Brunton "Pocket Transits" were in regular use, and by 1960, that total was approaching 100,000.
In another field of endeavor, David Brunton's investigation of sampling devices led to the idea that a true sample must cross the entire sampling stream for short periods of time, rather than periodic or continuous sampling of a portion of the stream. To accomplish this, he developed and patented an oscillating sampler. He also invented the quartering shovel and the Taylor & Brunton riffle as an aid to better sampling. In 1889, Taylor and Brunton erected their first public sampling plant in Aspen, Colorado, followed by at least four other such plants at various sites.
David Brunton is remembered for his inventions, but he was also an exceptional mining engineer. Working at mines on Smuggler Mountain near Aspen during the late 1880s, he supervised the driving of the 2.5-mile Cowenhoven Adit to relieve water problems and facilitate ore haulage. He then supervised the sinking of the 1,200-foot-deep Free Silver shaft, which was collared near the portal of the adit.
In 1980, Brunton went to Butte, Montana, to testify in some apex cases and was subsequently hired as a consulting engineer for the Anaconda mines. His work there with Horace V. Mitchell led to a better understanding of the complicated Butte fault systems. In 1903, at the Rio Tinto mine in Spain, Brunton developed a method of recovering copper ore from the old workings.
A.I.M.E. honored Mr. Brunton with its first Saunders Gold Medal for Distinguished Service in Mining in 1927.
In 1972, a small group of Riverton, Wyoming, businessmen combined their resources and purchased the product line surrounding the Brunton Transit from the Ainsworth company. With this purchase, they became exclusive manufacturers of products bearing the Brunton name. Now, decades later, Brunton products carry on the legacy of David Brunton, the practical mining engineer who devised the first "Pocket Transit."